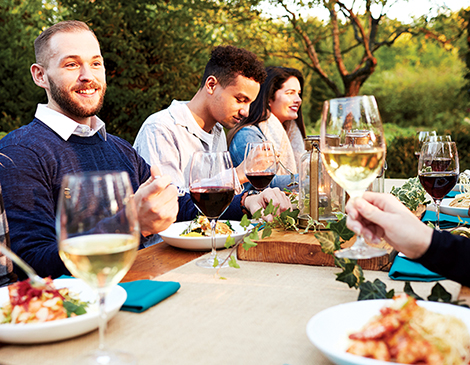 6 Wineries to Add to Your Summer Bucket List
Sample a myriad of wines at Flight Cleveland, take in the scenery at ThornCreek Winery & Gardens and more.
Cleveland's wine scene is growing and "ridiculously diverse" if you ask Willburr Moore, bar manager at Toast Cleveland in Gordon Square. Celebrating its ninth anniversary, Toast is known for its terrace, brunch and ever-changing wine list.
"Our menu can change every four to 10 days," says Moore, adding that there are popular staples including Los Chuchaquais, a peppery, full-bodied red wine.
In Ohio City, stop at Market Avenue Wine Bar with its vintage living room ambiance and lively patio. Flights Cleveland is a wine shop and bar with a "flight club" allowing you to choose three, six or 12 selected bottles.
Eight acres of nationally-award-winning gardens allow one to unwind with naturally relaxing wine at ThornCreek Winery and Gardens at Aurora. Delve into the rustic aging cellar and sip in a covered garden and entertaining area with a waterfall, stream, lush plantings and twinkling lights.
Try Lakewood's Cleveland Sunset Bee Humble Vineyards, a small gold-medal winery that produces honey wines. The flagship Strawberry Orange Honey Wine is slightly sweet, refreshing and has an off-dry citrus finish.
To Urban Vineyard CLE in Cleveland Heights, a key part of the business is celebrating Cleveland, says owner and founder Destiny Burns. Wine labels carry names and images of the city, and the winery partners with local chefs to bring food pop-ups to the site.
When the large garage doors are opened, a gentle breeze passes through the space. "It's a neighborhood joint with a bar vibe, and we have board games, great music, and chat rooms where you can meet friends," she says.
Dive into our full list of thrilling adventures, frozen treats, creative cocktails and more in our Summer Fun Guide.