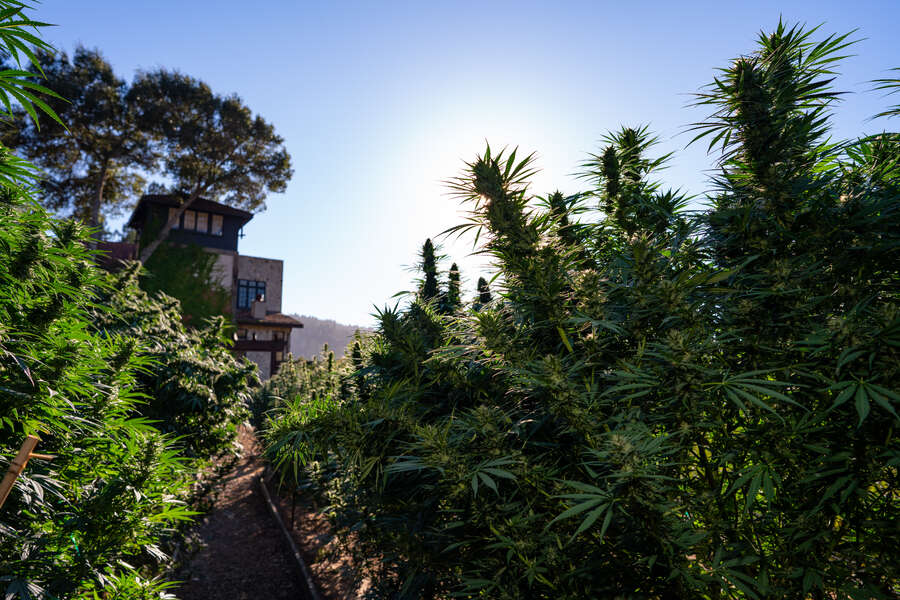 A Travel Guide to Wine and Weed in California's Anderson Valley
Where to eat and drink
Stop by the Disco Ranch Wine Bar & Specialty Market in Boonville and talk to the owner and brother the awesome Wendy Lamer, who can share lovely recommendations and information about all the wines on her shelves.
Pick up the essentials for a picnic or book a tasting menu experience at Bewildered Pig, which offers a selection of "faux-mage," or handmade, plant-based cheese, and medicinal mushroom cookies made with local candy cap, reishi, lion's mane, and cordyceps mushrooms, plus flax and pecans.
Do a wine tasting and taste brut rosés and bubbles at Domaine Roederer, or have a fun and memorable experience in the discreet vineyards of Toulouse. You can also stop for a sparkling wine brunch and homemade cheeses at Pennyroyal Farm, or walk by to sample the bold, fruity wines at Goldeneye Winery. Reservations are strongly recommended when visiting a winery.
Before cannabis and wine, the area was known for its apple orchards. At Gowan's Heirloom Ciders, you can enjoy orchard-fresh cider while seated in an Adirondack chair in the shade of century-old apple trees.
Craft beer plus your speed? Visit Anderson Valley Brewing Company, the world's first solar-powered brewery, to sample its award-winning Boont Amber Ale and Holy Gose. The 12-hectare beer park is dog-friendly and also includes an 18-hole disc golf course.
Walk among the giants in Hendy Woods State Park, an 80-acre ancient grove of redwoods along the Navarro River. Pay $8 for a day pass at the ranger station and drive to The Discovery Trail where the park's oldest redwood trees, 300 feet tall, form cathedral-like groves that scatter broken sunlight across sparkling cobwebs and moss-covered tree trunks.