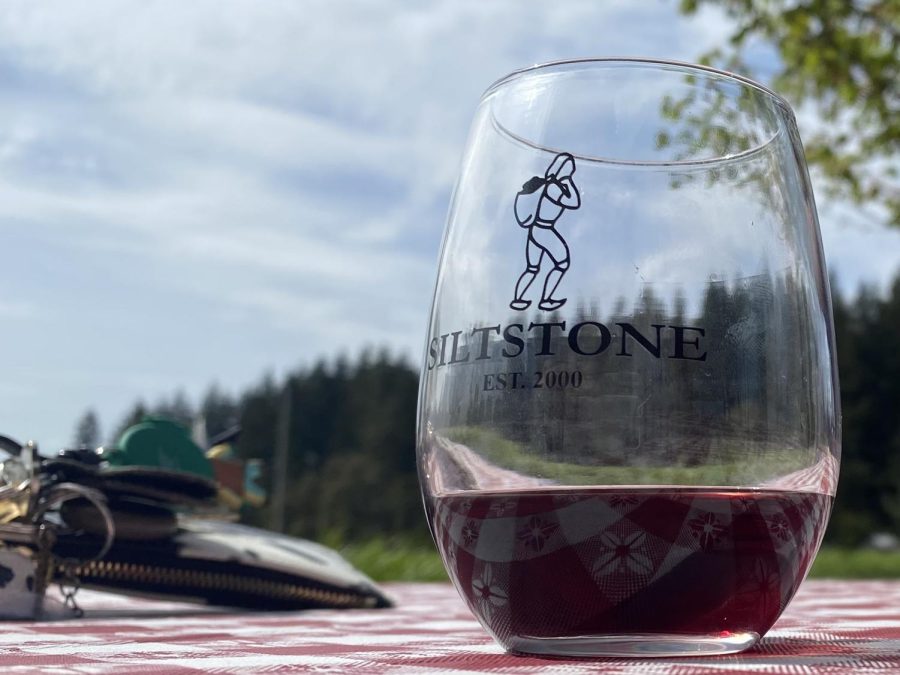 a Willamette Valley wine tasting experience for all – The Linfield Review
In the state of Oregon, there are 908 wineries. 700 of them reside in the Willamette Valley. Each of these wineries is unique in its own way and must find a way to show that its brand is different from the others.
Siltstone Wines, a small, family-owned winery in the Willamette Valley, has found its niche. Their property, which includes vineyards and a tasting room, is just a small place off Highway 18 in Dayton, Ore. If you blink, you might miss it.
The low-key place caught my eye and I decided to go there for a tasting on a sunny Sunday afternoon. It looked nice, small, and I expected I was about to unearth a hidden gem.
And that's the perfect way to describe this place. It has a casual outdoor tasting room that seats (probably) less than 30 people.
As soon as you enter the lobby, sunlight bounces through the windows onto the hardwood floors and wine glasses as you are greeted by a friendly member of staff. She kept popping the cork for us on the spot and pouring glasses of beautiful pink rose while explaining the details about the wine and how best to enjoy it. (Which was "like refreshment on a sunny day," and that's exactly what we did.)
After that we went out to the covered seating area with tables made from old wine barrels. There was also a picnic table outside the cover in the sun, which we chose. The view from the place wasn't anything crazy, with a few vines on one side and the fairly busy highway on the other.
But that's what makes this place unique: it doesn't try to be something it isn't. They don't try to compete with local industry giants like Domaine Serene or Willamette Valley Vineyards. They are just themselves and it works for them.
I think that's all wine should be. There is a preconceived idea that wine should be refined and tense. But the status quo around wine is slowly changing and Siltstone is a reflection of that. I would recommend the tasting experience for the wine newbie and wine connoisseur. It has a welcoming atmosphere and a very smooth feel that you don't get from most wineries.
Children's toys were strewn around a sandbox and hula hoops hung from the side of the building, encouraging families to bring their children for the experience. In fact, a toddler and her parents enjoyed the activities on the other side of the patio while we sipped our wine. The child's laughter filled the tasting area and prompted the waiter to bring her a bottle of bubbles from behind the counter for her to continue playing with.
I was surprised to see that they didn't pour into traditional wine glasses and instead used stemless glasses. Even more surprise at the end of the tasting, when the waiter told us that we could keep the cups that we were using. It was unique in all the wineries I visited, especially with the current shortage of glass in the wine industry.
Siltstone was created in 2000 by the Meyers family in the greater Willamette Valley. They pride themselves on doing Authentic and sustainable Oregon wine with their estate grown Pinot Noir, Pinot Gris, Chardonnay, Sauvignon Blanc and Rosé.
Joel Meyers planted his first grapes in the 1960s and has been growing premium wine grapes professionally since 1980 with his wife Louise. Eventually, their children also became interested in the industry and helped their parents grow their business into what it is today.
A visit to Siltstone should be perfectly timed, as it is only open Saturdays and Sundays from noon to 5pm from March to November. Their prices for a tasting are incredibly reasonable: only $10. With the purchase of a bottle, the tasting fees are waived.
They have six wines to sample, ranging from summery rosé and lemony Pinot Gris to more impressive flavors in their Pinot Noirs, Chardonnay and Sauvignon Blanc. The cheapest bottle is $15 and the most expensive is $45. The whole experience is very affordable, even for broke college kids like me.
I loved everything about this place and highly recommend it to anyone looking for a down to earth, affordable and quality tasting experience as the warm weather continues to set in this summer.