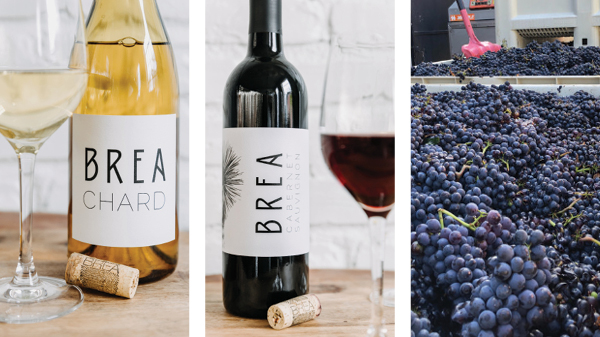 BREA Wine Company raises its glass to logistics
BREA Wine Company operates with a reduced staff – only one full-time employee. Yet since its launch in 2013, the Berkeley, Calif.-based company's sales have grown more than 13-fold. The company's founders, Tim Elenteny and Chris Brockway, are both employed full-time elsewhere. Elenteny is co-founder of Elenteny Imports, headquartered in New York; Brockway owns Broc Cellars, a winery based in Berkeley, California.
THE CONSUMER
BREA Wine Co. specializes in site-specific, terroir-driven, sustainably grown wine varieties that step out of the mainstream, while also bringing classic varietals into the fold. BREA wines are accessible in price and quality, and ready to drink, but also suitable for short-term ageing.
SUPPLIER
Elenteny Imports' logistics solutions guarantee all the details between the initial order and the final sale. The company manages freight forwarding, distribution and retail services that allow importers of wine, beer and spirits to focus on supply and sales.
---
"BREA Wine was meant to be a side project," says Elenteny. Like many efforts, however, it took on a life of its own.
Elenteny attributes the company's growth in large part to its partnership with Elenteny Imports, a business-to-business logistics company focused on the liquor industry. Although one would expect him to say that, given his role at Elenteny Imports, ensuring that the company handles many compliance and logistics functions, BREA's management team was able to focus on growing the business.
Elenteny and its partner have focused on producing quality, sustainably grown wines at accessible prices. BREA currently offers Cabernet Sauvignon, Chardonnay and Pinot Noir.
While growing grapes and making wine are essential to the success of any wine business, a mastery of logistics and compliance, as well as an appreciation of the value of time are also essential, says Elenteny. This is all the more true as a company grows.
"Time is a huge commodity," he says. To be successful, all business owners, regardless of the funding they can access, must use the 24 hours they have each day as efficiently as possible.
However, many business owners, and especially those just starting out, find themselves spending an inordinate amount of time and resources managing the myriad of functions, including finance, logistics and compliance, that are required to launch their business. While that's true in any field, it's especially true for liquor companies, given the many regulations they must comply with.
Compliance deadline
"Compliance for grape growers and small wineries is huge," says Elenteny. Yet few small distributors or wineries can take the time to master this feature.
Elenteny knew that BREA did not have the time and/or resources to obtain licenses for all the states in which the company would sell. "It was a driving force for us to place BREA with Elenteny Imports," he says. By teaming up, BREA could become "super-efficient" on the compliance side, speeding up distribution. The partnership also allowed BREA's leadership team to "really do the things that are going to grow your brand, which is sales and marketing," Elenteny adds.
Starting with logistics
Many new wineries are starting with the vineyard. While this approach makes sense, it also means that once the winery produces its first vintage, management must figure out how to get it to market.
In the United States, this requires navigating the three-tier liquor dispensing system. Under this system, manufacturers supply alcohol products to wholesalers, who distribute the products to retailers, who sell to consumers, as the National Alcohol Beverage Control Association explains.
No entity can be involved in more than one level in most state models. Each level is regulated and licensed separately. Additionally, a myriad of other regulations, many of which vary by state or even municipality, can govern liquor sales. The three-tier system is "certainly a unique hurdle in the universal world of selling wine, spirits and beer," says Elenteny.
"I flipped it," he adds, referencing his approach with BREA. He and his partner started BREA with an eye on the logistical side. This involved focusing on the goal of creating a brand or a business that small and medium distributors could work with. Many distributors and wholesalers had difficulty finding affordable California wineries. "I saw it as a logistics opportunity for small and medium-sized distributors in the United States," says Elenteny.
Elenteny Imports has played a key role in bringing this vision to fruition. The company was founded with the goal of providing US beverage brands and importers with a business-to-business logistics advantage, as well as industry expertise. Its client list includes start-ups, new importers and established companies, all of which determine the products to buy and the markets in which they will sell. As they do, Elenteny Imports manages and provides expertise in logistics, distribution and compliance.
While many distributors and beverage companies, especially startups, want to "get off to a flying start, the complexity of three-tier systems makes it easy to make mistakes," says co-founder Alexi Cashen.
For example, in liquor franchise law, a brand-named distributor or supplier has trademark rights, Cashen says. Thus, before a brand or supplier can appoint a new distributor, the previous distributor must have breached contractual sales measures; otherwise, they do not have to abandon the mark.
"In states where franchise law may be an issue, Elenteny Import's solution allows more freedom for brands to enter new states or test a market before committing to a distribution agreement," said Cashen.
License to sell
In addition to helping customers navigate the three-tier distribution system, Elenteny Imports holds licenses that allow it to sell in all 50 states. The company also helps clients manage a range of other functions, including inventory, brand registration, compliance and logistics.
Cashen and his team also help clients develop cost-effective transportation strategies. For example, some winery owners and importers assume that full container shipments are the most cost effective shipping solution. However, shipping a less than one container load, or LCL, and splitting shipments across multiple containers "often allows for staggered product landings, thereby spreading the costs," Cashen says. Elenteny Imports can offer customers a range of shipping options, she adds.
"We pride ourselves on adapting our customer service to a deeper understanding of the pipeline," says Cashen. The Elenteny Imports team understands how the logistics function can impact the effectiveness of a brand's sales and marketing efforts, then identifies logistics strategies that can improve them.
The customer onboarding process typically takes three to six months, although some companies can get started in several weeks. A longer lead time is usually needed when building a more complicated multi-state strategy.
Elenteny Imports is licensed in all 50 states and handles each state's unique requirements. "The compliance team removes licensing and brand registration hurdles," Cashen says.
Therefore, as soon as a business decides it's time to sell in a state, they can usually be good to go. Elenteny Imports also handles ongoing tax and other declarations.
Equally important, through the experience and expertise of its staff, Elenteny Imports can reduce the risk of errors while allowing businesses to grow. "It's a trusted entity that can get you closer to where you want to be, much faster" because you can stay focused on growing the business, says Elenteny.
Quality wine, affordable price
Of course, a quality wine remains essential to the success of a winery. A review in The Davis Enterprise called BREA Pinot Noir "clean, lovely cherry and dark berry, barely a trace of oak, layers of flavorful herbs, surprises in every sip. And under $20!"
Elenteny Imports has helped BREA grow organically and quickly enter new states, while meeting compliance and licensing requirements. BREA is currently present in 28 states and in one international market. "Relying on Elenteny's information and staff members has helped us reduce our errors and speed our path to distribution," Elenteny notes.
Many states still administer compliance using what is essentially "an abacus style of management," says Elenteny. Elenteny Imports takes the information and makes it available through its online platform. BREA has virtual access to all of its inventory, knows the states it is approved in, and can act quickly when it has new vintages coming out or a new state comes online.
Indeed, BREA has experienced impressive growth. Although the company hasn't added new markets for much of the pandemic, its current customers have increased their demand. In part, according to Elenteny, it was easier for many distributors to work with a domestic producer and avoid many logistical problems, such as port congestion, which frustrated many importers.
BREA would like to add a few more states to its list. However, its real goal is to deepen the markets in which it already operates.
As the business grows, it will rely on Elenteny Imports. Dealing with the myriad of financial, operational and other issues that arise daily can distract business owners from their ultimate goals. "If you have a reliable partner who can save you time," says Elenteny, "it's worth all the resources you can put into it."