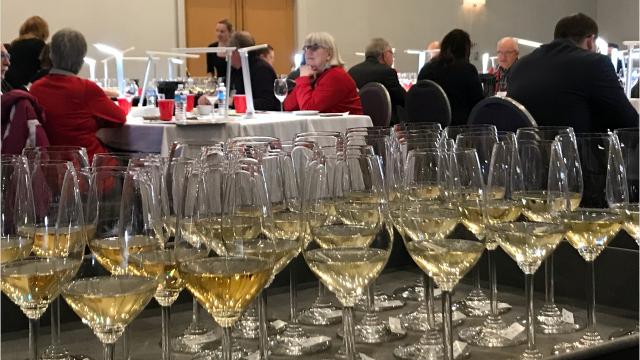 Crush Beer and Wine Tours passionate about touring and learning
[ad_1]
With our proximity to the Finger Lakes and hundreds of fine wineries, craft breweries, cider houses and distilleries, there is no shortage of opportunities for tasting tours.
Crush Beer and Wine Tours, headquartered in a small office in The Place in Victor Village on Main Street, specializes in public tours designed for those who are as thirsty for knowledge as they are for wine. Owner Russell Russo and his wife Mary modeled the business on a similar venture near Niagara on the Lake.
"My wife and I love to drink wine and beer," he said. "When we were doing wine tours … it didn't sound like much fun. I was either driving the car or we gathered 10 people and rented a limo which was very expensive. We found this little business… called Crush on Niagara. They would pick us up from the hotel, take us on a wine tour. After we paid the initial payment, there was no further disbursement.
For years, Russo and his wife traveled regularly to Canada. Then one day they decided to bring the idea back with them, and in 2013 they created Crush on Canandaigua.
After a successful first year, Russo expanded to other Finger Lakes and also began offering brewery and distillery tours. With the new approach came a new name: Crush Beer and Wine Tours.
The place offers a selection of pre-planned itineraries, showcasing different lakes, different brewers or wineries, combination tours and custom tours. Customers can include meals, snack trays, or even special birthday treats. Everything is prepaid, including the tastings, so customers just have to sit back and enjoy the ride.
Following:Here are some of the new restaurants we're drooling over in Rochester
Following:3 Companies That Will Make You Take Finger Lakes Van Tours In Style
"We are an educational wine company," he said, with less emphasis on drinking alcohol and more on tasting and learning. Customers aren't even allowed to drink in the vehicles between stops, which wineries particularly appreciate.
"Wine or beer tasters know that our groups have a passion for drinking wine or beer," he explained. "They want to learn something …"
Crush drivers act as tour guides, offering information about the vineyards and the area along the way. Children are welcome on tours at no additional cost. As long as Russo knows in advance that he's expecting kids, he'll make sure there are games and snacks, and the driver will help keep them entertained while their parents are in the tasting room.
Although the wine touring season peaks in the fall, Russo has been running brewery tours all winter long and is developing new tours not only to the Finger Lakes, but also to downtown Rochester and its suburbs. The ultimate goal is to help people make a connection.
"We want to create this experience that people will remember later," he said.
For more information, visit crushbeerwinetours.com.
Choice of the week
Locks will fly on April 15 at Finn's Tap Room in Victor during the annual ROC the Bald / Shave for the Brave fundraiser.
Dozens of volunteers will have their heads shaved to help raise funds for the St. Baldrick Foundation to help fight pediatric cancer.
The event will also feature clowns, sports team mascots, princesses, superheroes, face painting, raffles and more.
ROC the Bald / Shave for the Brave will begin at 1 p.m. on Sunday April 15 at Finn's Tap Room, 14 Railroad St., Victor. For more information, visit stbaldricks.org/events/Finns2018.
Visit the Our Towns East Extra Facebook page for more information on the east and email Missy at [email protected] with tips and story ideas.
[ad_2]