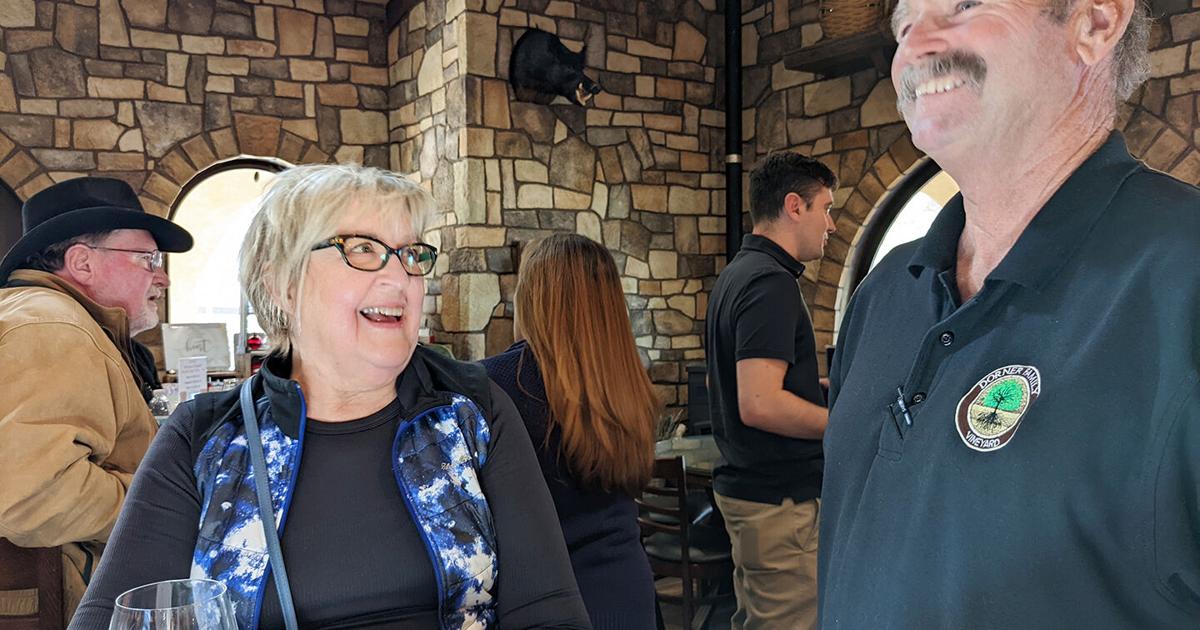 'Discover Tehachapi': New Company Offers Weekend Wine Tours | News
The Tehachapi Mountains wine region comes into its own with tasting rooms offering award-winning wines, food and entertainment every weekend.
And now a new travel agency is offering all-inclusive wine tours.
Discover Tehachapi, a business of husband and wife Chris and Clare Scotti, is now a licensed tour operator in the mountain community. Their inaugural offering is an all-inclusive wine tour currently available on weekends.
Boasting great wine, tasty food, and a comfortable ride, they offer their signature wine tour for $125 per person. The package includes pickup in Tehachapi, visits to three local wineries with tastings included, and gourmet lunch boxes specially created to match guest dietary preferences.
An added bonus is temperature-controlled storage for bottles of wine purchased during the tour, snacks and water on board, and informative commentary about the Tehachapi vineyards and surrounding countryside.
Chris Scotti was behind the wheel during a recent organized tour for the media and others, including volunteers at the Tehachapi Visitor Center. Wife Clare was volunteering at the downtown Tehachapi center operated in partnership with the city and the Tehachapi Tourism Commission, a branch of the Greater Tehachapi Economic Development Council.
The couple have lived in Tehachapi for about three years.
Attention to detail
Scotti showed equal enthusiasm for the community and her guests with great attention to detail. Along with water and snacks, he offered advice — the number one complaint after wine tours, he said, is a headache, which he attributes to dehydration, not alcohol. 'alcohol.
Friendly and professional, he checked the safety of the van and made sure everyone was wearing seat belts and observing the current COVID-19 precaution of wearing face masks. Hand sanitizer was provided, as well as wet wipes packaged before lunch.
His commentary on the drive from the city west to the Cummings Valley – where most of the region's vineyards are – includes a history of viticulture in the region.
He explained that the region's recent designation as an American Wine Area – or AVA – allows producers to include the term "Tehachapi Mountains" on their labels. The terroir is unique, he says. Tehachapi vineyards grow at a higher elevation than any wine grape in the country and are able to thrive because the warm air of the San Joaquin and Antelope Valleys protects the vines from frost.
Tasting rooms
Currently, five wine tasting rooms are operating in Tehachapi. Scotti said Discover Tehachapi's Signature Wine Tour tours between three of the four and plans to develop a special tour for the fifth.
Weekend tour guests can visit Dorner Family Vineyard, Tehachapi Wine & Cattle Company, Tehachapi Winery, and Triassic Vineyards. The rotation – and the order in which each is on the tour – varies with each tour.
The vibe at each of the locations is as different as the owners and their stories. But all share an enthusiasm for wine culture and work together to create a friendly environment for visitors.
A bonus – but never promised – is a chance to meet the winemakers or vintners and learn more about each one.
For those wishing to visit on their own, Discover Tehachapi posts an informational column every Thursday on its Facebook and Instagram pages titled "This Week in Tehachapi Wine Country" with the latest information on each of the sites. Many offer music and other entertainment and offer food.
More information
Reservations can be made online with pickup from Tehachapi. Gift cards are also offered.
Claudia Elliott is a freelance journalist and former editor of Tehachapi News. She lives in Tehachapi and can be contacted by email: [email protected]