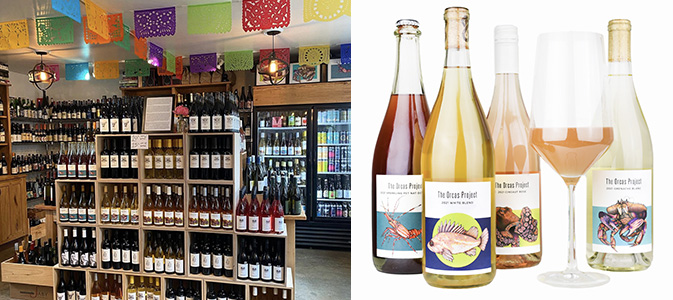 Doe Bay Wine Company to Open Second Location…in Seattle
The Orcas Island bottle store will join a lineup of stars in a new building on Phinney Ridge
---
||| OF COLE SISSON for DOE BAY WINE COMPANY |||
---
Doe Bay Wine Company, an Orcas Island bottle shop and tasting room, announced the opening of its second location in Seattle's Phinney Ridge neighborhood in early 2023. The tasting room will be located in the new "Shared Roof" building around the corner. of 70e and Greenwood. Two other businesses, Ben's Bread Co., from former Sea Creatures baker Ben Campbell, and a new tap room location from Holy Mountain Brewing will share the yard with the bottle shop.
Doe Bay Wine Company recently celebrated its fifth anniversary on Orcas Island, where it is known for its curated selection of wines, beers, ciders and sakes. The focus is on fun, esotericism and small producers discovered during decades of travels around the world by the team. Additionally, their in-house winery "The Orcas Project" offers custom collaborations with ten critically acclaimed winemakers showcasing labels designed by island artists. These winemakers include Doug Tunnell of Brick House, Chad and Bree Stock of LTD+, Tom Monroe and Kate Norris of Division Wine Co. and Chris Peterson of Avennia.
Chris Maykut of the Phinney Neighborhood Association said, "The business district of Phinneywood is extremely excited for Doe Bay Wine Company and The Orcas Project to make their debut in the neighborhood. We believe this is the perfect concept of high integrity, local and sustainable wines that our community craves, and the tasting room will be a welcome addition to the vibrant mix of small businesses on Greenwood Ave.
Owner Cole Sisson grew up on Orcas Island and has since spent his career working with wine in restaurants, distribution and importing. He is known for his love of travel, food and mezcal. "I'm excited to open a second location on Phinney Ridge," said Cole. "In college I lived next door to Sully's Snow Goose, honed my knowledge of the spirits at Oliver's Twist and have always maintained my connection to this neighborhood. I think it's one of Seattle's most exciting and welcoming communities.
More information can be found on their website at doebaywinecompany.com (@doebaywinecompany) and theorcasproject.com (@theorcasproject).
About Doe Bay Wine Company:
Doe Bay Wine Company opened on Orcas Island in 2017. In addition to its bottle shops, Doe Bay Wine Company has a consultancy arm specializing in the design and acquisition of private cellars, home tastings and business courses. Owner Cole Sisson also owns Roots Orcas Island and Mezcal Bacaanda.
---
---
Orcasonian's comment policy
We encourage comments and expect conversations to follow the conventions of polite speech, much like in kindergarten. Therefore, we have some basic guidelines:
We need your FULL NAME.
No vulgar language, personal attacks of any kind, or offensive terms targeting protected classes
---