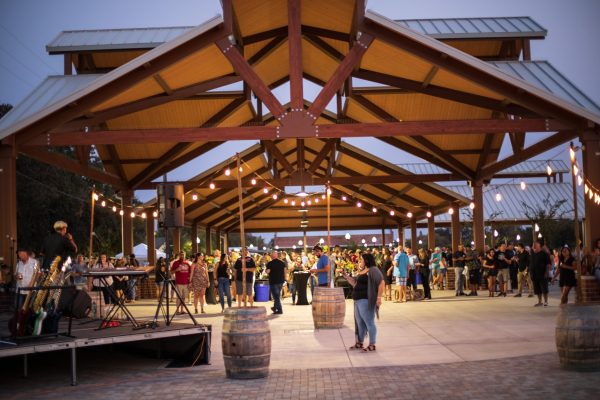 Elk Grove's annual beer and wine tasting event is back
Explore Elk Grove and Sky River Casino, in conjunction with the Town of Elk Grove presents, "Uncorked and Uncapped 2022" for its second year on September 24 at the Old Town Plaza located at 9615 Railroad Street.
If you're looking for the perfect pint or glass, there's a celebration on tap that will showcase Elk Grove's thriving and growing beer and wine scene. The event will feature local wineries, breweries and live entertainment. Plus, festival-goers will have the opportunity to indulge in local dishes with a variety of the city's best food trucks and restaurants. Then attendees can take a free shuttle to the new "Sky River Casino".
VIP tickets are sold out, but there are still a limited number of general admission passes available. To buy tickets CLICK HERE
A bouncy brewing scene
Like to keep things light with a pilsner or lager? Do you prefer a bitter IPA? How about something dark and heavy like a porter or a stout? Whatever your tastes, your palette will be delighted.
Zac Van Someren is the general manager of the Hungry Pecker Brewing Company at 9251 Elk Grove Boulevard. He's excited to be back with six different favourites: the Imperial Mexican lager 'Seven Spanish Angels', the honey lager 'Backwoods Barbie' and the new double IPA called the. Mosh Pit.
"It's a big event for established businesses that have fought the pandemic," Van Someren said. "They're going to be out there representing Elk Grove."
He's also looking forward to using a beer-equipped 1931 Ford Model A Panel Truck. The truck is rented from 31 Tap Pour House, the newest tap house in town. The business will open in Old Town later this year at 8949 Elk Grove Boulevard.
Other featured breweries are: Dust Bowl Brewing Company; Flatland Brewing Company; Tilted Mash Brewing and Waterman Brewing Company.
Advertising
Sip and savor
Tastings are more than a wine lover's dream. Matt Pratt owns the Bradley Ranch and Brewery at 110770 Bradley Ranch Road. He said the event helps preserve the small-town flavor of Elk Grove.
"People are discovering all these little places that they can visit. They can feel there's something special at Elk Grove, and it's a bonding event for us," Pratt said. "Things like this force breweries and wineries to come together to share stories and tips and tricks."
Other wineries at the event will include: Adkins Family Vineyards; McConnell Estates Winery; Christopher Cellars Winery; Sheldon Wine Shop; Vannatta Wines and Wolfe Heights Estates.
Images courtesy of Explore Elk Grove
Don't forget the treats and the music
There will be many food trucks offering a wide variety of culinary delights such as: Fujiya; Jeeroz Mediterranean; The Angry Leader; Rancho Rio Bravo and Ahuevos Foods.
Lake Tahoe-based band The Conner Party will have their feet tapping and bodies moving on the dance floor.
A boost for local business
Last year's sold-out event drew 750 people. A few weeks later, the companies continued to reap the benefits.
South Slope Wines opened at 10527 Sheldon Road a few weeks after taking part in the first Uncorked & Uncapped event. Customers always arrive on their site to talk about their artisanal wines. This year, they will have a barbera, a viognier, a petite sirah and a zinfandel.
"We haven't been around for over 20 years like some of these others. It put us on the map and we couldn't be happier.

-Myles McMahon, Owner, South Slope Wines
Elk Grove sits between three of California's notable wine regions: Napa, Amador, and Lodi, but it's fermenting its reputation as a go-to spot for some of the finest beers and wines. Luis Aguilar, the town's economic development specialist, has found a number of business openings since 2015. They include four breweries, a tap house and four winery tasting rooms.
Explore Elk Grove
Explore Elk Grove is a 501(c)(6) non-profit organization and the town's official tourism and marketing partner. According to their website, they aim to "inspire locals and visitors to visit, shop, dine, socialize and congregate at our local businesses, parks, attractions, hotels and places to foster positive economic development for the region." .
To this end. they want to share the city's growth with the region through a flagship event like Uncorked & Uncapped.
"People are meeting some of the owners, brewmasters and winemakers," said general manager Aaryn Val. "They are the ones lurking behind the scenes on a daily basis, and the owners come together as the Elk Grove community of plugs and plugs.
Get down
The event is important for all things local, said Enrique Silva, owner of 31 Tap Pour House.
"A lot of people only go to one business. But when they go to this event, they're going to see what else we have available in town," he said.