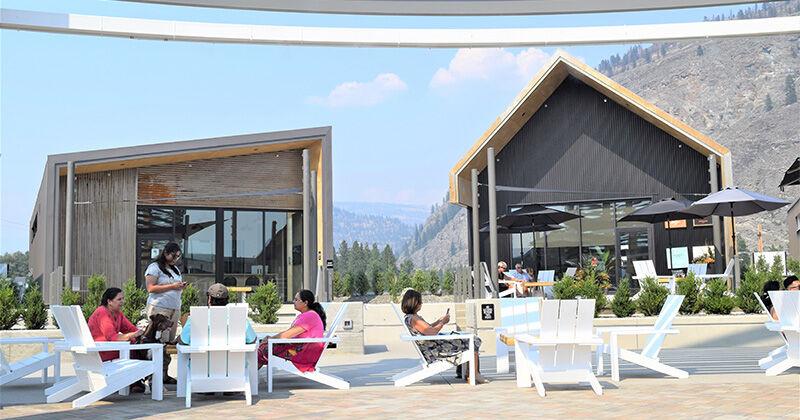 It is an ideal setting for wine tasting | Economic news
[ad_1]
The Wine Village District in Oliver is the place to see and be seen.
This is true for winemakers and wine lovers.
For small wineries that wouldn't have a tasting room otherwise, this is the opportunity to be in a central location (just off Highway 97) with a dozen other wineries, each with its own building facing a huge courtyard with terrace, event and concert space.
For wine lovers, this is a wonderful setting to taste the wines from several wineries and relax.
"We couldn't be happier to be at the District Wine Village," said Michal Mosny, owner and winemaker of Winemaker's Cut.
"There's strength in everyone, so it's great to be among other vineyard tasting rooms in a development that attracts both locals and tourists."
Winemaker's Cut vineyards and production facilities are 11 miles away at Deadman Lake between Oliver and Osoyoos.
Mosny had planned a tasting room there, but COVID arrived and derailed everything.
Instead, the winery decided to go ahead with a virtual tasting room at VigneronsCut.ca, the first of its kind in Canada, and a tasting room in the District Wine Village.
"It worked better," Mosny said.
"We see more people and sell more wine in the District Wine Village than we would have at home (in Deadman Lake)."
As a result, Winemaker's Cut is sold out on many of its 2020 whites and rosés.
However, he still has 2020 Muscat, 2020 Bohemian Riesling, 2020 Gruner Veltliner, and 2020 Fidelia Sparkling ($ 26) available at the District Wine Village for tastings and sales.
Winemaker's Cut is also set to release its 2020 harvest of reds under the bohemian label – Cabernet Sauvignon, Cabernet Franc, Merlot, Syrah, Petit Verdot and Tempranillo.
For November, the wineries in the Wine Village District are 11:00 a.m. to 6:00 p.m., Wednesday through Sunday.
For the Trading Post brewery and its restaurant, the hours are from 11 a.m. to 6 p.m. on Wednesdays and Thursdays, Fridays from 11 a.m. to 9 p.m. and Saturdays and Sundays from 11 a.m. to 7 p.m.
Time in the neighborhood
The latest winery to settle in the District Wine Village is Time Family of Wines.
Time, which carries the Time, Chronos, McWatters and Evolve labels, has a popular cellar, tasting room, restaurant and production facility in downtown Penticton.
However, she decided to open a satellite tasting room at the District Wine Village in order to exhibit her wines to a wider audience and increase sales.
"We are thrilled to be a part of the innovative Village Concept and happy to continue to be a part of the Okanagan wine community," said Time Managing Director Christa-Lee McWatters.
McWatters also recently took over as 2021-2022 President of Wine Growers BC, the organization that represents 325 wineries that produce wine from 100% BC grapes.
Although the group is lobbying governments, McWatters said Wine Growers BC's main goal is to inspire people to support local wines and to drink more BC wines.
It worked. During the pandemic, wines from British Columbia increased their market share slightly to 19%, which means that one in five bottles of wine sold in the province is wine from British Columbia.
That's good when you consider that the competition is made up of heavy hitters from California, France, Italy, Spain, Australia, New Zealand and Chile.
Also in the Quartier
The other small artisanal wineries in the Wine Village District are Eau Vivre, Gneiss, JoiRyde, One Faith, Uppercase, Vintners Cove and Valley Commons.
Nk'Mip, which has a well-established winery and tasting room in Osoyoos, has also set up a second location in the village.
There are only two spaces left in the village, one for a cellar and one for a distillery.
There is already talk of a second phase under construction to meet expected future demand.
Penticton-based Greyback Construction, which has built many other wineries and the Bennett Bridge across Okanagan Lake, is the developer.
Steve MacNaull is an Okanagan wine lover and Canadian wine specialist.
Email: [email protected]
[ad_2]