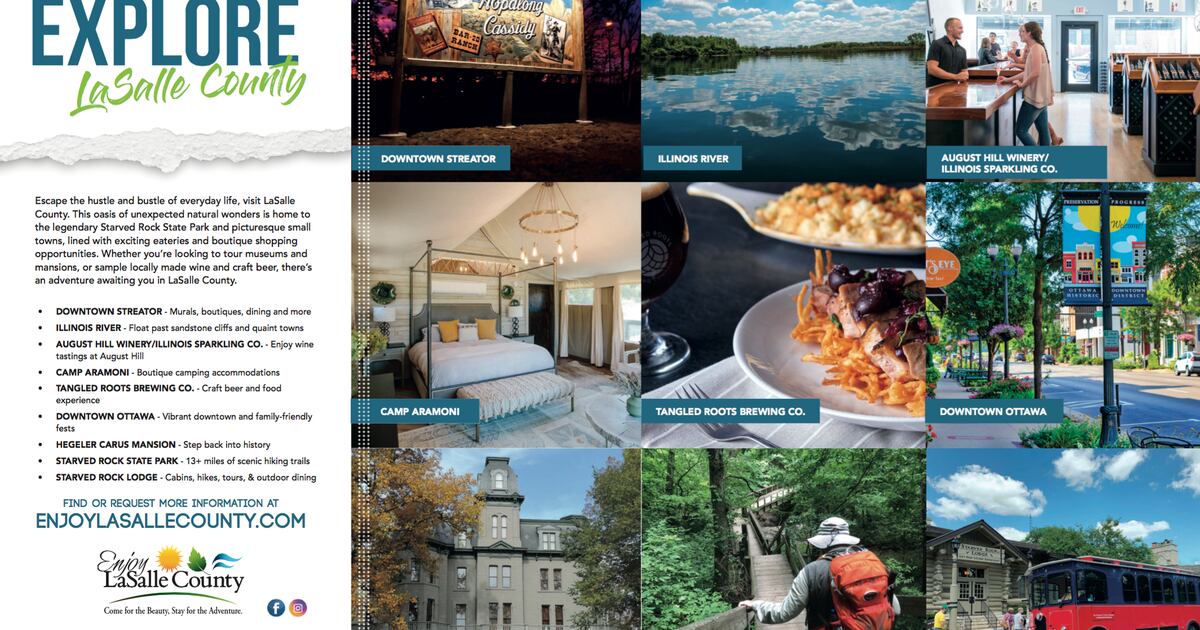 LaSalle County Featured in Enjoy Illinois – Shaw Local Travel Guide
The Illinois Tourism Board has released its Spring/Summer 2022 issue of Enjoy Illinois, a popular travel planning and travel guide that can be found at rest stops, travel centers, hotels and convention complexes throughout Illinois and beyond. In this issue, a two-page ad promotes LaSalle County, home to Starved Rock State Park and many other popular tourist destinations in Starved Rock Country.
The substantial two-page advertisement was a cooperative program between LaSalle County Tourism and the seven local restaurants and lodging and recreation attractions featured through the broadcast. Partners for this episode included Downtown Streator, August Hill Winery/The Illinois Sparkling Co., Camp Aramoni, Tangled Roots Brewing Company, Downtown Ottawa, Hegeler Carus Mansion and Starved Rock Lodge.
This ad is the latest initiative from the LaSalle County Tourism Board, custodians of the Enjoy LaSalle County promotional brand. Chaired by LaSalle County Board Member Jill Bernal, the committee meets monthly to strategize tourism marketing campaigns, assist nonprofit organizations and events through fundraising applications. and secure advertising space to promote LaSalle County in print, digital, television and billboards.
The county's tourism efforts are funded by pillow tax dollars, collected from lodging establishments in unincorporated areas of LaSalle County. The Tourism Committee ensures that these funds are spent appropriately to promote more overnight stays and spending among small businesses and restaurants in LaSalle County.
To keep up to date with an ever-changing industry, representatives from the LaSalle County Tourism Committee regularly attend the Illinois Governor's Travel and Tourism Conference, where they network with leaders from nearby communities and attend educational sessions in small groups. In recent years, the county has won several statewide awards for its multimedia promotional campaigns.
The Enjoy LaSalle County ad, the only two-page spread featured in the spring/summer issue of Enjoy Illinois, was coordinated by the Heritage Corridor Convention and Visitors Bureau. It promotes visitor experiences and overnight stays through tourism partnerships within communities and counties along the I&M Canal National Heritage Historic Corridor, which stretches from southwest Chicago to Starved Rock Country. The Heritage Corridor Convention and Visitors Bureau is officially certified by several counties along the route, including Bureau, Grundy, Livingston, Putnam, Will, and LaSalle.
Each year, LaSalle County works with the Heritage Corridor CVB to promote the Flock to the Rock event, a three-month window of activities and promotional offers that invite visitors to participate in winter eagle watching. This year, a new summer co-op campaign will be launched, Libations Live, which will promote the area's many nightlife and live music opportunities.
Bernal, who was appointed to the LaSalle County Tourism Committee more than a decade ago and served on the Heritage Corridor Board of Directors for eight years, works alongside the President and CEO of Heritage Corridor CVB , Bob Navarro, for state tourism grants. The county's latest round of grant applications resulted in funding for a series of television commercials through Effectv, targeted digital ads, and the publication of an Enjoy LaSalle County guidebook and road trip brochure.
"We are thrilled to partner with LaSalle County Tourism to promote the area's parks and outdoor recreation opportunities," Navarro said at a recent county tourism committee meeting. "LaSalle County Tourism, under the leadership of Jill Bernal, has been very active both locally and statewide in promoting and developing tourism. LaSalle County Tourism understands the importance of advertising outside the region to highlight [the] Hungry rocky area.
The Heritage Corridor CVB recently opened a new Starved Rock Country Welcome Center & Illinois Made Gift Shoppe in downtown Utica. LaSalle County supported this project promoting Illinois makers and artisans. Navarro said one of the top sellers is Streator's Fine Field Pottery, designated as an Illinois Made manufacturer.
A new episode of the county's popular Road Trip Guide is set to be released in early May and will be distributed to more than 85 locations across Illinois, Wisconsin, Iowa and Missouri. The guide will include maps of all state parks in the county, event listings for communities in the county, and predefined road trip routes for easy planning.
From the county-funded cogwheel maps for attractions and events like the I&M Channel and Streator's 4th of July celebration, to the new 56-page travel guide and Enjoy Illinois ad, look for LaSalle County next time as you browse a stand of brochures.
For more information, be sure to follow Enjoy LaSalle County on Facebook and Instagram.