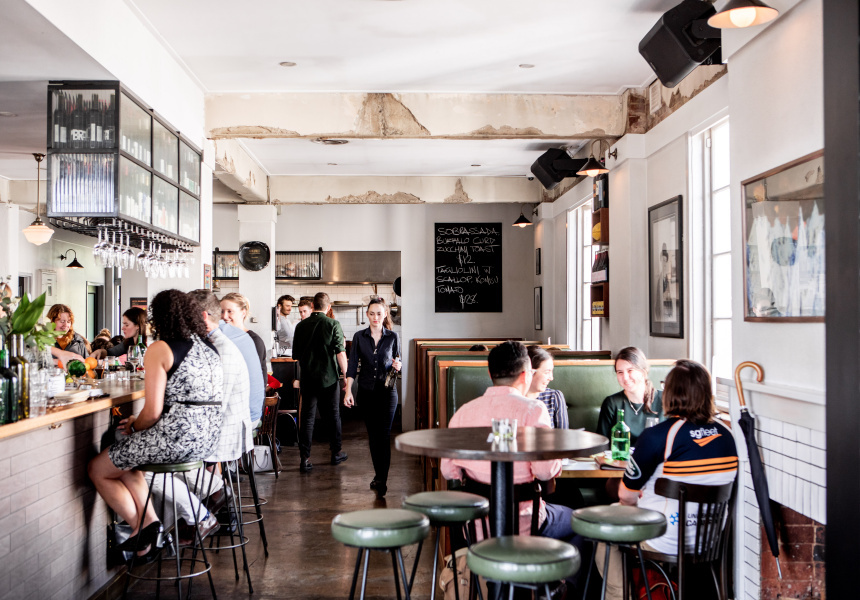 Local winemaker Sam Leyshon's guide to wine and dining in Canberra
Sam Leyshon has had more jobs than most.
The Canberra native has worked as a chef, landscaper, professional musician, security officer in Parliament and in the mines of Western Australia. But lately, Leyshon has followed in his father's footsteps to become a winemaker. Today, he runs Mallaluka, a winery located in the Canberra district.
Founded in 2014 on the forward-thinking principles of low-intervention wine – which appealed to Leyshon during a stint at Melbourne specialty wine store Blackhearts & Sparrows – Mallaluka has become "a playground for experimentation", says- he. This philosophy reflects his father's (albeit an amateur) approach to winemaking: don't be afraid to push the limits.
"Dad was laughing and saying if it didn't work out and we ended up throwing it down the drain, that's fine – we're here to have fun," Leyshon says. "Not only did we not throw it down the drain, but we also sold it very quickly."
The local wine district is a predominantly cool climate region bordered by Canberra, Yass and Bungendore. It is particularly known for its Shiraz and Riesling.
"Both strains express themselves beautifully here," says Leyshon. "You get a cooler climate style of shiraz – it's not a big jammy fruit bomb with really high alcohol, it's a bit more streamlined: smoother, more delicate and a bit less alcoholic. Canberra offers something different from the warmer, richer reds we are used to in Australia.
A sophisticated local food and wine culture has emerged in the city to match the attractive provenance of the region. That means it's a very different town from the one Leyshon grew up in. "There are a lot of people doing really interesting things that make the city more colorful," he says. We asked Leyshon about his favorite places to eat and drink in the nation's capital.
Paranormal
A stop at Paranormal, a Parisian boutique bottle slash bar, is "a must" for any visitor thanks to "a fantastic wine list" and thoughtful menu, Leyshon says. A draw card is "the excellent charcuterie and snacks to mop up delicious drink choices". The ambience, he says, is "very chill and spacious, with indoors, outdoors and grass across the road for takeaways".
Paranormal Wines G27/6 Provan Street, Campbell ACT
Rocheford Bar
Hidden away in the historic Melbourne Building downtown, Bar Rochford is the place to go for "a lively atmosphere with a rotating drinks menu, exceptional cocktails and fun vibes", says Leyshon. "The vinyl is still spinning. The food is on point and the staff are legitimate experts and display a very high level of professionalism and passion."
Bar Rochford First Floor, 65 London Circuit, Canberra City ACT
Molly
Molly, a glamorous speakeasy now housed in the Melbourne Building – it moved from its original premises in Hobart Place when the building was demolished – is a veteran of Canberra's small bar movement.
"Molly is a Canberran institution you shouldn't miss," says Leyshon. "Canberrans have always been used to traveling to other cities to see cool places, but this was the first to pop up here." With an extensive collection of whisky, spirits, and savvy bar staff on hand to whip up top-notch cocktails, Molly's offers a memorable – and dimly lit – late-night experience.
Molly Wooden Door, Odgers Lane, Canberra ACT
bar cicada
Located in Constitution Place, one of Canberra's newest food districts, Cicada Bar combines a minimalist interior with a commitment to creating minimal waste. The result is a place that is sophisticated, durable and well worth a visit.
If you want "passionate people, interesting drinks — the sake list is phenomenal — and an exceptionally chic late-night atmosphere with contemporary Japanese influences, then this is your place," says Leyshon.
Cicada Bar 1 Constitution Ave, Canberra ACT
Pilot
If you're looking for a sit-down meal to celebrate a special occasion, Pilot should be your first port of call. Located on an unassuming shopping street in Ainslie, in the north of the town, Pilot is a small restaurant with 30 seats. Chef Malcolm Hanslow, whose credits include stints at Automata, Ester and Oscillate Wildly, celebrates seasonal Australian produce in a seven-course tasting offering known as the Pilot.Menu. "It's contemporary cuisine by one of the best chefs in town," says Leyshon. "Prepare to be spoiled."
Pilot 1 Wakefield Gardens, Ainslie ACT
This article is produced by Broadsheet in partnership with Visit Canberra.