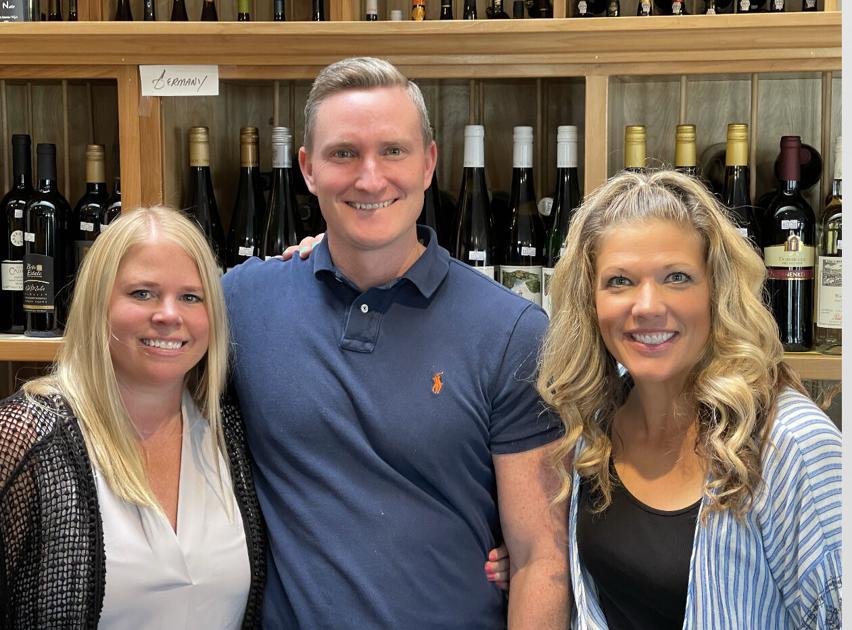 New Owners Launch Lake District Wine Company | Business
TRAVERSE CITY – New and old join forces at an Eighth Street wine store.
Alaina Leech, Kristy McClellan and Michael Topp are the new owners of the new Lake District Wine Company, 539 E. Eighth St.
Ric Cerrini and John Dressler operated the wine store, formerly Bon Vin, for 10 years with a focus on what Leech described as old world wines. This will continue at Lake District Wine Company.
"These will be the same distinctive wines Ric had from the old and the new," Leech said. "We didn't want to lose this. We just wanted to focus more on Michigan wines.
"We're not going to give up any of our selection, but we're going to add more local wines and really listen to our guests," McClellan said.
Even with the new owners, customers will see a familiar face inside the store. Cerrini stays to work for the trio.
"Having Ric in the store is a huge plus," Topp said of the transition, which ended on May 24. "I have learned more over the past week about wine than I ever knew before."
Leech and McClellan join the Lake District Wine Company a year after starting Think Fresh Consulting, which works with five to eight local wineries on wine club marketing and growth. McClellan and Leech will continue Think Fresh.
"It's just a continuation of that," Leech said. "We wanted to do something together where we could sell all the local wines that we like. It's a perfect combination of that.
Leech also has 15 years of marketing experience, the last 10 at Traverse City. Leech worked at Bowers Harbor Vineyard for seven of those 10 years and three more at OneUpWeb.
McClellan worked for Bowers Harbor Vineyard as Director of Operations from 2008-2020 and for Left Foot Charley as Director of Sales, starting in 2020. While in college, McClellan also spent summers working at Tapawingo Restaurant in Ellsworth under the direction of Master Sommelier Ron Edwards.
"My passion is both hospitality and education," said McClellan. "We believe this will be another outlet to be able to improve the business of not only wine in northern Michigan and the region here, but also many other different regions around the world."
Topp comes to Lake District Wine after 15 years as Vice President of Membership of the Washington, DC-based Society of Industrial and Office Realtors, a division of the National Association of Realtors.
"I bring all of the operations and member service to it," Topp said. "Our skills combine very well. "
"We all bring something different to the table," Leech said.
"That's what's good about it," McClellan said. "With everyone's experience and passion, it's a good team and a good balance.
Topp has done most of his work remotely since moving to Traverse City in 2014. Topp's mother was born and raised in Cheboygan and her family have owned a cabin on Mullet Lake for years.
"It's been a dream of mine since probably 2003, when I graduated from college to own my own business," Topp said.
"I met Kristy and Alaina and we hit it off really well. We pitched ideas, and then it happened last fall. I felt in my guts, and in their guts too, that this was the real deal.
Cerrini is also convinced that the new owners will carry on the tradition of Bon Vin while taking it in a new direction.
"When Ric and I opened Bon Vin, our mission was to select wines from around the world that deliver quality, distinction and, most importantly, value to the masses for all to enjoy," Cerrini said in a statement. "This remarkable 10 year journey has reached its climax, and Ric and I thought if we could find someone who shares our vision and mix it with a dose of useful energy, now would be a good time to pass it on.
"Ric and I are sure that Kristy, Alaina and Michael can take your wine experience to the next summit."
With the new owner, the trio felt that a new name was needed for the new start of the business.
"Since it's called the (North Boardman) Lake District, we thought it would be more relevant," McClellan said. "We really want to be recognized as the neighborhood wine merchant.
Topp said the name is also a way to extend the connection made by Bon Vin.
"I want to develop this, and what better place than Eighth Street," he said. "I'm so excited to be downtown."
In addition to the name change, Leech said Lake District Wine will be open seven days a week instead of five. Summer hours are 10 a.m. to 6 p.m. Monday to Wednesday, 10 a.m. to 7 p.m. Thursday to Saturday, and noon to 4 p.m. on Sunday.
The new owners said it would allow Lake District Wine to expand wine club events and educational tastings, especially to industry ones.
"I think this will help our region be recognized even more for its incredible character," said McClellan.
The new owners have said they also want to show that the Lake District is as inclusive as it gets.
"People think wine is only meant for a certain demographic or that it's very intimidating and we want to eliminate that," McClellan said. "There is a wine for everyone.
Over the course of the Lake District Wine Company's few weeks of opening, the new owners have loved combining the new and the old in the new store. This is especially true for Topp, who is new to the industry.
"I didn't know work could be so fun," Topp said.