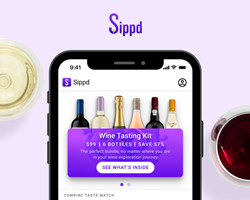 Sippd Launches Premium Home Wine Tasting Set for Beginner Wine Drinkers and Enthusiasts
"Our team created this pack to showcase an exceptional portfolio of wines while helping our users discover, develop and refine their unique taste profile – because drinking what you love is what matters." – Blake Hershey, co-founder and CEO of Sippd

WASHINGTON (PR WEB)
May 26, 2022
Sippd, the wine recommender that uses artificial intelligence to provide users with personalized scores, has released an at-home wine tasting bundle offering app users a premium wine experience delivered to their doorstep. Sippd's Wine Tasting Kit encourages users to learn about wine by drinking it, while providing novice drinkers with a starting point and wine lovers with an at-home experience to get out of their comfort zone.
Making it easy to explore the quintessential wine varietals of the world's major wine regions, the tasting kit includes six bottles – each of the main wine types: red, white, sparkling, rosé, fortified and dessert. Sippd has teamed up with connected online retailer, Wine Spies, to create this kit offering a range of flavors to satisfy a variety of tastes, making a great addition to any wine collection or helping curious wine drinkers discover which wine suits their unique taste preferences. .
Additionally, Sippd users get a 57% retail price off the package, which takes the six-bottle wine tasting kit from $232 to just $99 including shipping.
Contents of the tasting kit:

Red: Wine Guerrilla 2018 Paradise Lane Vineyard RRV Old Vine Zinfandel

White: Stéphane Ogier 2014 'Viognier de Rosine' IGP Collines Rhodaniennes

Sparkling: Wine Spies Brut Sparkling

Rosé: IND 'Influencer' Rosé de Cinsault

Dessert: "Château Ste. Michelle 2014 'Eroica' Riesling Icewine 375ml

Fortified: Wolf's Head 'Iberian Ruby' Port Blend 500ml
"From music to movies, everyone has personal preferences in all facets of life, and wine is no different," says Blake Hershey, co-founder and CEO of Sippd. "Our team created this pack to showcase an exceptional portfolio of wines while helping our users discover, develop and refine their unique taste profile – because drinking what you love is what matters."
Sippd's Wine Tasting Kits are perfect for personal use, special occasions and make a great gift for wine lovers whether you're showing your appreciation to a friend or client.
To purchase a Sippd Wine Tasting Kit, consumers can purchase here on desktop or download the Sippd app on mobile devices, available for free on Apple and Google Play stores. For more information, please contact Alicia Ortiz, Head of Marketing, at [email protected] For retailers who would like to learn more about showcasing your products on Sippd, please email our team at [email protected]

About Sippd

Sippd lets people focus on tasting their wine, not ordering it. Combining artificial intelligence and wine, Sippd helps wine lovers find and order wines that match their tastes. With our Taste Match features, we're able to provide you with personalized wine recommendations that continually evolve with your preferences, so you can effortlessly order the perfect bottle every time. Stop wasting your money on bottles you don't like and instead simplify and transform your online wine experience with Sippd, the AI-powered personal sommelier who knows your palate. Sippd's free mobile application is available for download on the Apple and Google Play stores. For more information, visit sippd.com.
Share the article on social networks or by e-mail: