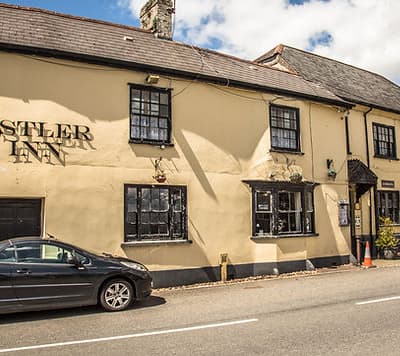 Sparkling fun at a blind wine tasting evening
The Ostler Inn in Uffculme has just hosted its 3rd blind tasting competition. And this time it came with bubbles!
"Evenings like these are not possible without the kindness and generosity of so many local businesses and villagers," said Simon Stimson of the Ostler Inn.
"I would like to thank Station Garage, Jolly Jaunts taxis and ANR Electrical Services as well as a few locals who all contributed to the event as sponsors."
In the evening, there were six bottles for ticket holders to sample: a French champagne; 2 Italian proseccos; a Spanish cava; an English bubbly and an Armenian Shampanskoye. Bottles ranged from £7 (Armenian) to £35 (English sparkling). Alongside this was an exciting individual competition where questions are asked and elegant prizes of fine wines are presented to the winner and two runners-up.
Simon continues: "That evening, we presented six bubbles, all of good quality. Herman Hendriksz, our resident chef, provided excellent canapes for every round, including oysters.
Entrants rated each bubble and their scores were collated to reveal the 'Ostler Champion Sparkling Wine'. This time there was a huge shock as the Armenian Shampanskoye, the cheapest bottle of the evening, was voted the best! He has just propelled the most expensive, the Englishman Nyetimber, to second place by one point. Champagne, which although very good, surprisingly came last.
Kevin Woodward answered most questions correctly and was crowned Gold Sparkling Wino! Sharing 2nd place, Sarah Stimson and Peter Bainton. All 3 won a bottle of Chapel Down English sparkling rosé, winner of the Platinum Decanter Awards in 2021.
The pub is also planning to hold blind rosé and red wine tasting evenings this year. Anyone wishing to register their interest can do so by contacting the organizer Jim Clancy at [email protected].UK.